135th Commencement Ceremony of the University of Washington
On Saturday, June 12, 2010, the University of Washington community will gather together in Husky Stadium to celebrate the achievements of the Class of 2010.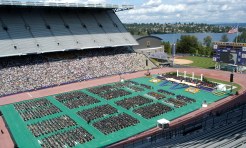 With banners flying and playfully decorated caps on their heads, the degree candidates will take the field to the cheers and applause of nearly 40,000 family members and friends. The pageantry will continue with the entrance of the deans of the University's seventeen schools and colleges, followed by President Mark Emmert, the regents, and honored guests.
The ceremony begins with President Emmert's opening remarks, followed by the presentation of awards to distinguished students, faculty and alumni, remarks by student speakers, and a formal address by our commencement speaker.
The conferring of degrees will begin with the professional and doctoral candidates, followed by the master's and bachelor degree candidates. Each candidate will cross the stage and shake hands with either the President, the Chairman of the Board of Regents, Provost Phyllis Wise, or one of the Deans. Photos of each graduate will be taken during the hand shake. Candidates will receive complimentary purple diploma covers bearing the official seal of the University. (Due to the size of the graduating class, only the names of doctoral and professional degree candidates are announced.)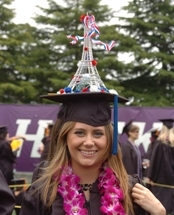 William H. Gates to be Commencement speaker!
William H. Gates, Co-chair of the Bill and Melinda Gates Foundation, will be the speaker at the University of Washington's 135th Commencement Ceremony at Husky Stadium on June 12, 2010. Mr. Gates guides the vision and strategic direction of the foundation and serves as an advocate for the foundation's key issues. Through its Global Development and Global Health programs, the Gates Foundation is bringing economic growth, educational resources, advanced technology, and health care to millions of people in improverished countries around the world.
Read more about this remarkable man at uwnews.org.
A Message from the President
Dear Students, Parents, Family, and Friends,
It is my great pleasure to invite you to the 135th Commencement Ceremony of the University of Washington on June 12, 2010, in Husky Stadium. Our UW community is very proud of our graduates, and we look forward to congratulating the Class of 2010 on their achievements and welcoming them into the Husky Alumni family.
The stadium opens at noon, and the student and faculty procession begins at 1:30 p.m. On this website, you can find further details about the Commencement ceremony as well as the many school, college, and departmental events. You can also find information about how to register for the ceremony and order caps and gowns, tickets, parking passes, and other graduation items.
Our 135th Commencement ceremony promises to be a memorable occasion for graduates and for all of those who helped them reach this significant milestone. I hope you will join us for this meaningful and joyous celebration.
Sincerely,
Mark A. Emmert, '75
edited by Jianniu from http://www.uwgraduation.com/
上海剑牛礼服---学位文化的传承者!! !